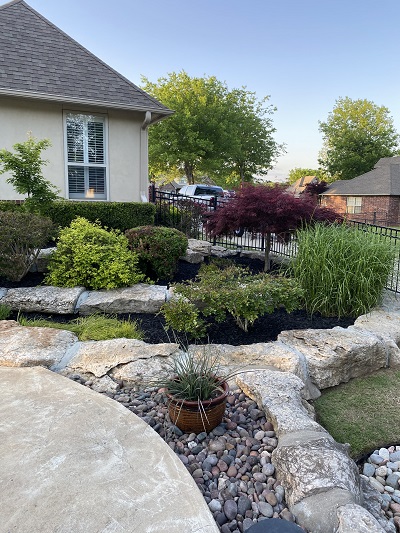 As we walk neighborhoods the first things we notice is the exterior part of the house. As property managers and homeowners association managers we have the opportunity to be walking a lot of neighborhoods or driving them and we get a feel for the personality of each neighborhood. It is unfortunate when so many clearly take pride in their homes, but a few seem to neglect the exterior for their homes altogether. At PMI Green Country, we service communities and neighborhoods across Oklahoma including where our office is located, Broken Arrow, also where the owner and broker is from, Coweta. We also go out as far west as Sand Springs for HOA management and property management as well as Claremore, Catoosa, Collinsville and Owasso. We go as far east to manage properties as Muskogee. We focus on areas in Bixby and all over Tulsa.
The simplest way to increase the curb appeal of your home is a well manicured lawn. Making sure you have created a routine of mowing your yard at least weekly during the spring, summer and fall months will give it a more cared for appearance. Another way to increase curb appeal is to weed eat or edge your property. This gives it a fresher appearance when done each time you mow your lawn. The more you do it, the easier it gets! Make sure as you mow, you respect your neighbors and pick up your yard clippings.
As far as really increasing the value of your home beyond just making the exterior appearance better by the disciplines of mowing and edging weekly, homeowners should consider sprucing up the yard by landscaping. By adding flowers in the flower beds this adds interest to the home and pops some color around the home. To inspire you, consider walking around your neighborhood and see which homes you admire the most. By just doing one small area, you will get one step closer to making your place your area of refuge and a place you are so proud of. If you would like to learn about flowers that thrive well in this Oklahoma weather, consider going and reading the following article from OSU regarding best plants entitled Oklahoma Proven: Plant Selections for Oklahoma
https://extension.okstate.edu/fact-sheets/oklahoma-proven-plant-selections-for-oklahoma.html
Many people think they lack the creativity to landscape their yard but what they really lack is the clarity to implement a plan. Many do not know when to start, where to start or how to start. To simplify this, we typically start with cleaning out the old and picking up leaves and other dead leaves on plants and shrubs and trees. Once you clear that out, it's time to get the top layer of mulch from last year and simply dispose of. This is a good time to add any shrubs or flowers to your garden. As you replace your mulch, we have a bias toward the black mulch and we use Scott's black mulch. This is just personal preference but we think it looks best with the color of our home.
Landscaping your home and creating an inviting exterior is not only good for increasing the value and aesthetics of you home, it also lifts your spirits. It is the first place you see as you drive into your driveway on a daily basis. Once you develop taking care of the exterior of your home, you will beam with pride as you come home daily and continue to take care of the exterior.
If you are one of those homeowners that live in an HOA and you take care of the exterior of your home, we want to thank you! If you live in an association and you notice that several of your neighbors are not keeping up their yard, maybe a friendly suggestion or help would be appropriate. If there are rules in your governing document around the yards, and your neighbors are not abiding it may be time to talk to the board. If you are a self-managed association and it's awkward to have that conversation, call us! Managing homeowners associations is what we do! We are able to put systems in place to start with more official "friendly notifications" and if allowed all the way up to hiring it out and billing the homeowners if the governing documents allow it. Whatever the case, PMI Green Country located in the heart of Broken Arrow can take care of your association management needs or properly management needs.
To summarize, taking pride in the exterior of our home sheds light into how we feel about ourselves and the pride we take in home ownership. If you are already doing this, stop and pat yourself on the back for a job well done. If you are not doing this yet, take small steps toward progress and before long you will be prideful. Yard work is like so many other habits in life. It's easy to do. Unfortunately it's also just as easy not to do. Create your habits today to have the lawn you have always dreamed of.