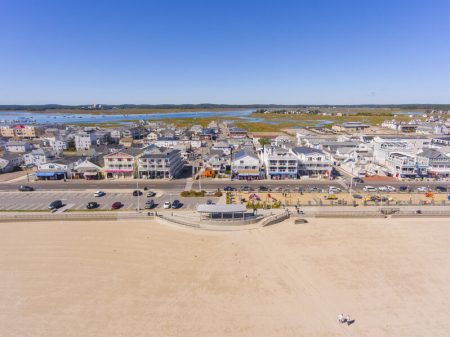 Here in Hampton, we're so lucky around this wonderful time of year, because not all cities have as many options as we do when it comes to romantic date night restaurants. Throughout the year it's so fun to explore different ways to spend time with your significant other, or even with a new love interest.
However, Valentine's Day is the perfect time to indulge in traditional gooshy romance. It's time to break out the flowers, teddy bears, chocolate, and of course, romantic dinners. If you've got your eye on someone special this Valentine's Day, here are three of Hampton's best restaurants for a romantic evening out.
1. Ron's Landing
We can't think of anything more romantic this Valentine's Day than dinner with a beach view. There's something about the inherent nostalgia of a fresh salty breeze that can warm even the most un-romantic of hearts. There's a reason why it's a cliché for people to say they enjoy "long walks on the beach" when trying to find a romantic partner, the ocean makes you want to fall in love.
All these factors make Ron's Landing perfect for a romantic Valentine's Day evening for you and a romantic interest of yours. Ron's Landing is known for its elegant décor, gourmet options and of course, the magical experience of dinner with an ocean view. Ron's Landing specializes in all the meals that you picture having for a "fancy dinner" style date night, like steak, all kinds of pasta dishes, veal, and a variety of indulgent wine options that you deserve to treat yourself or someone special with. Also, Ron's Landing has a broad spectrum of vegetarian and gluten-free menu options, so that your date night is unaffected by anyone's dietary restrictions. Not only does Ron's Landing have an ocean view, but you can also walk directly out to the beach from the door, so you and your date can finish the night with that aforementioned romantic long walk on the beach.
2. Hoaty's
Alright, if all that fancy evening romance sounded a bit too romantic comedy for your taste, we have so many more options, and Hoaty's is a great one for our couples who are a bit more daytime-oriented. If you are interested in someone new this Valentine's Day, we think that inviting them to a brunch date is one of your best options, because everyone loves brunch. Hoaty's is the brunch spot of your dreams. Hoaty's and Ron's Landing make for very different dates obviously, but something they share is the opportunity to indulge like you may not get to normally, which makes for a fun date! You and your date can try one of the amazing French toast dishes or pancakes (or both, we don't judge!)
3. Galley Hatch
Of course, because of our location, we had to drop in one more seafood-specific option, and that option is none other than the Galley Hatch Restaurant. Galley Hatch serves some of the finest seafood dishes we have in Hampton, specializing in lobster, scallops, shrimp, and fish that are caught daily by local fisherman and sustainable fisheries. Galley Hatch is the best-of-both-worlds option between our first two options because they also serve breakfast and lunch, so you can have your Valentine's Day meal whenever it fits your schedule. However, one of the main reasons that Galley Hatch is an amazingly romantic place to eat is the atmosphere. Galley Hatch is styled to look like a vintage New England inn, which makes it a cute and quaint location for a romantic date with your Valentine, whether they are a new romantic interest or a current romantic partner.
We hope we helped give you some ideas for this Valentine's Day. Wherever you go and whatever you do, we hope you have a wonderful Valentine's Day!